Need support that will endure your toughest workout? KT TAPE PRO is just what the trainer ordered. It will keep you pain free and supported exactly where you need it. KT TAPE PRO will stay in place through multiple demanding workouts for up to seven days. KT TAPE PRO will stick with you in the harshest conditions including daily showers, humidity, cold, even in the pool.
KT TAPE PRO is performance engineered to work in the harshest environments. It's the world's only 100% synthetic kinesiology tape, re-engineered with stronger adhesive, to out last anything you can throw at it.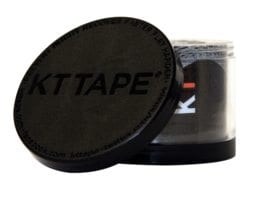 KT TAPE PRO comes in a permanent carrying case. It's great for the gym bag and hundreds of other useful things. Use it for everything from training gear to good luck charms. Be creative and tell us what you're doing with it.
KT TAPE PRO comes in 10 colors: Rage Red, Sonic Blue, Laser Blue, Winner Green, Solar Yellow, Blaze Orange, Hero Pink, Epic Purple, Jet Black and Stealth Beige. The tape is all the same, the different colors are so you can style yourself out.
Each box comes with twenty-10″ precut "I" strips of 100% synthetic tape. One hard plastic carrying case with twist on lids to keep your tape in good shape in your gym bag or purse. One Quick Start Guide with step-by-step instructions on the most common injuries and one KT sticker.